Solid fuel stoves continue to be popular heaters for narrowboats, barges and other types of boat. Many owners are finding that their stoves provide a dry, homely warmth and in many cases hot water, with few or no problems.
However, Boat Safety Scheme (BSS) records show that solid fuel stoves and their use continue to be linked to the outbreak of boat fires.
Be watchful
You have to keep your eye on things as leaving a stove unattended if you you are not used to how it runs can mean the burning process will get out of control; over-firing is the name for that risk and industry experts beleive that every stove will over-fire at least once in its life.
Also be watchfull about the type and amount of fuel you use as well as keeping a weather eye open. High winds mean more caution is needed as how you use your stove.
Never have combustible items too close to stoves.
Safety improvements can be planned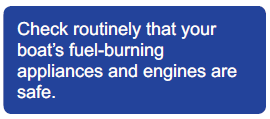 Spotting any early signs of trouble, may also mean being a detective. Growing
safety problems may be well hidden so sight, touch and smell may have to be used.
On the other the problem could be obvious, in front of your nose so to speak. Follow our advice about items that burn being too close to stoves.
Most incidents are preventable and with care and thought about the choice of stove, the chimney design, their proper use and timely maintenance, the trend in incident figures could be reversed.
The key to this is planning to reduce risk through good installation which means having the right stove and the right chimney, in a place in the cabin that meets the best design for a stove location.
And even if you have no plans to renew stove in the near future, a cabin refit in the area around the stove could bring valuable safety improvements.