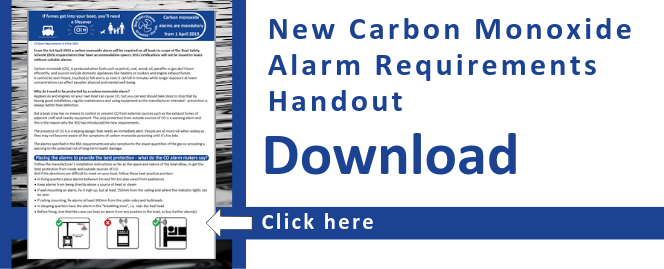 The BSS Essential Guide to CO Alarm Requirements (COAR) include the important details and background information on the mandatory requirement for CO alarms (2019)
It covers what is required and how the checks will be carried out by BSS Examiners and how the alarms will help keep crew members safe, including:
CO alarm makers guidance about where to place a CO alarm to achieve best protection,
What type of CO alarm to buy,
What to do if a CO alarm goes off,
What to do if carbon monoxide poisoning is suspected.
Many people don't realise the dangers of Carbon Monoxide poisoning, or CO as it's known. It only takes one faulty appliance, blocked flue or a build-up of engine exhaust gas to potentially harm you and your family. This series of videos helps you understand the what Carbon Monoxide is, the symptoms of CO poisoning, how to choose the right alarm to protect you and your family, and importantly what do if your alarm goes off.
So how safe from CO do you think you are?

Happy boating is boating safe from CO, so we have a short quiz for you and your crew to take to decide how safe are you from CO?
Will you be surprised at some of the answers or are you managing this risk like the best of boaters?
Please take 5 minutes out of your day to test your knowledge and how you behave to discover how safe are you and your crew from CO? [Download]
HINT: If you want the best score, there is more information on staying safe from CO we have some short videos to watch and there is a booklet below to download from this page too.
What is Carbon Monoxide, and how does it occur?
The Symptoms of Carbon Monoxide Poisoning
Choosing the right Carbon Monoxide alarm?
What to do if your Carbon Monoxide Alarm goes off
"Each year boaters die or are made seriously ill from carbon monoxide (CO) poisoning - Boats are built to keep water out, but this also makes them good containers for gases and fumes."
When carbon-based, appliance and engine fuels, such as gas, LPG, coal, wood, paraffin, oil, petrol and diesel don't burn completely, CO is produced.
CO build-up in the cabin can occur with one or a mix of these factors:
with faulty, badly maintained, or misused appliances
exhaust fumes from a boat's engine or generator
escaped flue gases from solid fuel stoves
short supply of air - fuels need the right amount of oxygen to burn safely
10 tips to keep you and your crew alive!
Install fuel burning appliances properly, in-line with makers directions
Follow servicing guidelines; maintenance should be routine and competent - Don't allow bodged repairs, adjustments and adaptations
Always use appliances as per the instructions and never use cookers for space heating
Don't block ventilation – appliance fuels like gas, coal, wood, oil, paraffin, etc. need sufficient air to burn safely
Don't bring charcoal BBQs on board, or have them near a cabin during or after use - only stone-cold charcoal is safe
Keep engine fumes out of the cabin space, never use a portable generator in or near a cabin
Deal with problems immediately, never use equipment you suspect has problems
For more detail read the information on the pages linked by the buttons on the left,
The Carbon Monoxide Safety on Boats booklet is available to download

Copyright belongs to the owners of the Boat Safety Scheme and CoGDEM jointly.
This information may be freely reproduced, except for advertising, endorsement or commercial purposes. Please acknowledge the source as Boat Safety Scheme & CoGDEM.

BSS Home