To help minimise the risk of fuel blowback it's important to allow air to be expelled from the fuel tank as it's being refilled. The fuel tank also needs to be able to 'breathe' to help the supply of fuel to the engine. Extreme temperature changes causes the volume of fuel to expand and contract. Fitting an effective vent pipe minimises the strain on tank seams and fittings when this occurs. To achieve this, a vent pipe with an internal diameter of no less than 12mm (1/2ins) must be connected to the highest point of every fuel tank.
To reduce the risk of fuel leaking past the joints and into the boat the vent pipes must be connected with leakproof joints. To help prevent the blowback of fuel and ensure the hose doesn't collapse, the pipe must be made of a strong non-kinking material.
If the vent hose is not marked as being suitable for use and you don't have relevant evidence from the supplier confirming its suitability, it's recommended that the hose is replaced with one complying with BS EN ISO 7840, SAE J1527 or DIN 4798.
Abrasion damage to the vent pipe, caused by rubbing against internal fittings, could cause it to leak fuel into the boat. To reduce the risk of this happening it must be of minimum practical length and must be well supported at regular intervals throughout its length.
| | |
| --- | --- |
| | Don't forget, fuel tank vent pipes must always be on a continuous rise. If they dip at any point on the way, this allows fuel to lodge in the dip and block the vent, rendering it useless. Inadequate tank and pipe ventilation can lead to a dangerous build-up of explosive fuel vapour. [2.4] |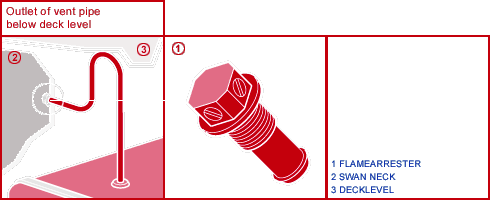 The minimum internal diameter of a vent pipe must be 12mm (1/2ins). Boats manufactured before 16 June 1998, which have a vent pipe with a minimum internal diameter of 9.5mm (3/8ins), are exempt from this part of this Standard. Boats with fuel systems complying to ISO 10088 which have a vent pipe with a minimum internal diameter of 11mm are also exempt from this part of this Standard.
Older boats not originally fitted with individual tank vent lines can use the filling pipe as the vent. This option to meet vital fuel vapour ventilation requirements is available if there is a vent in the fuel filling cap which incorporates an effective flame arrester. [2.4]