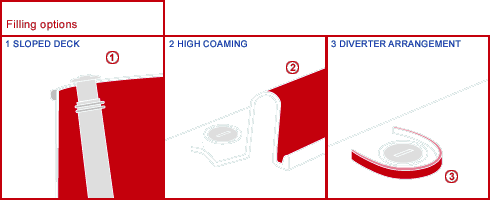 The provisions of this section of Part 2 in the 2002 BSS Standards are mandatory for non-private boats where applicable.
Spilling fuel into your boat means there is a risk of fire or explosion if that fuel or fuel vapour becomes ignited. To reduce this risk the filling point must not let any fuel spill into the boat, including the bilges. Three examples of how to achieve this are shown above.
Inside a confined space even a small amount of potentially flammable fuel carries a serious risk of fire or explosion.
Small amounts of fuel can be diluted if they escape overboard. If large quantities of fuel or other substances escape into a watercourse you should contact the Environment Agency Pollution Hotline on 0800 80 70 60 (24hrs) or the Scottish Environment Protection Agency on 0345 73 72 71.
To make sure that any fuel filling nozzle is properly inserted and to prevent 'blowback' of fuel when  refuelling, the fuel filling system must have an internal diameter of at least 31.5mm (or 11/4 ins). It is good practice to use a fuel filling system with a larger diameter since this further reduces the risk.
To stop a flexible filling hose from collapsing if it's bent, which could cause blowback or a leak, the hose must be of a strong, non-kinking material which is not easily compressed or squeezed. This is particularly important if the hose needs to be bent at an angle when routed from the tank to its deck connection.
All flexible hoses perish over time as a result of the hose material reacting with the fuel. To minimise leaks the fuel filling hose must be made from a material that's suitable for the fuel that it carries.
If the filling hose is not marked as being suitable for use and you don't have relevant evidence from the supplier confirming its suitability, it's recommended the hose is replaced with a fuel filling hose complying with BS EN ISO 7840, SAE J 1527 or DIN 4798.
To help prevent fuel leaks, the filling hose or pipe must be connected with leakproof joints between the top of the tank and the filling point. Care must be taken when using worm-drive clamps to ensure they are the right diameter for the hose to maintain a leakproof joint. It's recommended that, during routine maintenance, you check the condition of clamps that are used to make joints. They must be replaced if they appear damaged or corroded.
For additional protection, it's recommended that you use double clamps on a filling hose used for petrol.
To help prevent abrasion damage against interior fittings, filling hoses must be well supported at regular intervals.
Fuel must be able to drain back into the tank and not be retained in the filling hose, since this could cause blowback when refuelling and may contribute to a deterioration in the pipe's condition. The filling hose therefore must be of the minimum practical length and continuously rising between the tank and the filling point.
To reduce the risk of leaks it's essential that all joints and connections must either be seen or felt to check their condition. [2.1] [2.2]