This section outlines very briefly what you must think about for the BSS examination if you use gas aboard your boat. If you use portable gas equipment, some of this information is still relevant and could keep you safe.
---
  Critical Safety Notices: Gas Equipment
Don't be tempted to refill standard LPG cylinders
Most LPG cylinders are owned by and remain the property of the gas supplier whose name is printed/ marked on the cylinder. These cylinders are filled by weight and must ONLY be filled in a dedicated filling plant by the gas supplier or their authorised filling contractor.
DIY re-filling of standard LPG cylinders such as Calor, Flogas and BP Gas that are intended for factory replenishment can be extremely risky and will be an unlawful use of the original gas suppliers' property.
There are specialist re-fillable cylinders sold by companies such as Gaslow, Gas-It, Prakto and Safefill cylinders designed to be filled at service stations.
According to Kevin Tyson, BSS Manager, 'Boaters should not to attempt to refill LPG cylinders intended for factory replenishment and to do so is an unlawful use of the cylinder and is potentially highly dangerous.
In general terms, filling cylinders safely is a complex and controlled process the subject of UN Recommendations, EU Directives, UK Regulations, British and European Standards and UKLPG Codes of Practice.
Liquid Gas UK, the national trade association for liquified gas supply, has published this statement on it website
"LPG (propane) is potentially hazardous and the filling of cylinders can be a high risk activity which is governed by law to protect you and others."
The statement goes on to say
"Most cylinders are owned by and remain the property of the gas supplier whose name is printed/marked on the cylinder. These cylinders are filled by weight and must ONLY be filled in a dedicated filling plant by the gas supplier or their authorised filling contractor. It is unlawful for anyone else (either a company or private persons) to fill these cylinders."
These codes and regulations exist so that the employees of the LPG cylinder supply companies are not put at risk when refilling the cylinders and so that customers can use the product safely.
Anyone attempting to fill a free-standing LPG cylinder will likely be stopped from doing so by a petrol station staff member.'
If at the time of a BSS examination, an overfilled standard LPG cylinder is suspected, the Examiner will likely abandon the BSS examination, class the boat as 'immediately hazardous' and notify the BSS office.
There is further reading here https://www.liquidgasuk.org/domestic/lpg-cylinder-supply-and-return
Recall of Clesse Novacomet BP1803 LPG Reglators

The BSS is supporting Clesse Industries to make boaters aware of the immediate product recall on its Novacomet branded BP1803 LPG regulators manufactured between June 2006 and September 2015. Find out more here immediate recall information
Recall of Calor Lite® cylinders 2008-11
Calor Gas Ltd has asked the BSS to help notify boaters that there is an immediate product recall on all 6kg Calor Lite® cylinders manufactured between 2008-2011 inclusive following concerns regarding the potential deterioration of the cylinder. Find out more here immediate recall information
Do you have a Beko, Flavel or Leisure LPG cooker installed on your boat?
There is an on-going Beko campaign to find and fix dangerous older models of Beko, Flavel and Leisure gas cookers that can produce potentially fatal levels of carbon monoxide, if used incorrectly with the grill door closed. Find out more here: Urgent Safety Alert
---
Boats with LPG (butane and propane) aboard
If your vessel has gas aboard, please remember to prepare the vessel before its examination and ensure there is a supply of gas ready for the examiner to undertake the checks.
LPG cylinder lockers - boat owners must ensure the BSS Examiner can carry out careful checking of the LPG cylinder locker for condition, including the removal of all loose portable items, base protection mats, removable false floors and the temporary removal of connected LPG cylinders.
Discuss your LPG cylinder locker arrangements with your examiner in advance of the examination as this may require your attendance or you to make prior arrangements involving service agents.
LPG lockers not accessible enough to allow an assessment of condition will involve the BSS Examiner having to return to carry out the check with the obstruction removed.
The BSS Examination includes checks on any LPG system covering aspects of the storage of gas cylinders, gas system and the connections to gas appliances.
The complete set of checks can be read in Chapter 7 of the BSS Examination Checking Procedures (See page 41 of the PDF file).
Here is a diagrammatic description of the BSS Requirements linked to a boats LPG system. The numbers refer to the chapters and section in the BSS ECPs referred to in the link above.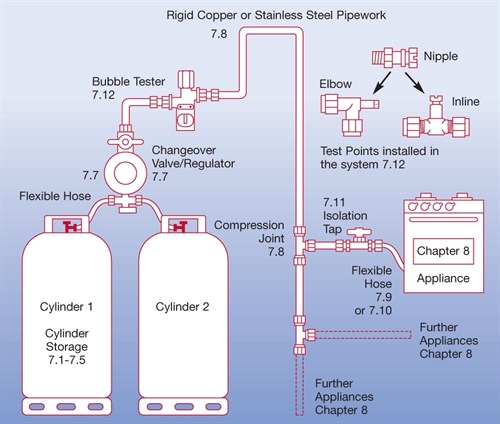 How do we check your boat is free from gas leaks?
The BSS Examination includes a test that checks that the gas system is free from leaks i.e. the gas tightness-test.
However, we would like to stress that the system should be gas-tight (not leaking) all times, not just when the BSS Examination is due.
For boat owners the simplest way of having that assurance is to install a bubble leak detector and use it routinely. A BSS Examiner can also use this device to check the system is gas tight too, if it is installed correctly.
Where a bubble leak detector isn't fitted, the BSS Examiner must use a device called a manometer, this has to be connected to a gas test point.
The test point is simply a threaded opening into the gas system. It is sealed by a screw action nipple. To test the system, the nipple is undone, the manometer is connected up, the test is carried out, the manometer is then disconnected and the nipple is tightened back down.  It is tightened sufficiently to seal the test point once more to prevent a gas leak, but not so tight as to damage the seal and cause a gas leak.
Who can carry out BSS Examinations on your boat?
All BSS Examiners are trained and assessed in the same way to carry out checks of the gas system and to be competent undertake gas-tightness tests with manometers or with bubble leak detectors. They are quality assessed and have to undergo periodic retraining and assessment.
However, the use of a boat, affects its status under UK gas legislation, as follows:-
Privately owned boats used solely for leisure and pleasure purposes
If your boat is used by you for private leisure and pleasure use, all BSS Examiners can legally carry out a full Boat Safety Scheme Examination including checking by manometer that the gas system does not leak - the tightness-test.
Please read these other pages if you think your boat is in one of the categories below.
Link to information about - Residential & Domestic use boats, liveaboard craft and houseboats
Link to information about - Hire boats, passenger vessels, commercial and business boats*
The BSS Examiner may ask you about your boat's use:
The examiners who are not on the Gas Safe register are advised as part of their initial dealings with owners to ask in advance of turning up at the mooring, about the status of the craft.
To avoid falling foul of UK law and avoiding criminal prosecution they need to find out whether the boat's use will mean they should not carry out a tightness-test using a manometer.  They may ask the following questions, just for their own personal record:
Is the boat hired out in the course of a business?
Is the boat used primarily by anyone for domestic or residential purposes (In this matter, it makes no difference to if the boat is owner-occupied or rented-out)?
Are people invited on board the boat in the course of a business, e.g. is it a café or shop?
Even if the answer to all the questions above is 'no', the examiner is advised to make a brief record that he or she has asked the questions and received the negative answers. This information will not be shared with BSS Office or other parties unless there is an investigation linked to gas testing by the examiner.
*Note on the BSS Examination for non-private boats - If a vessel is a hire boat, third-party managed share-owned boat, trip boat, rented residential boat, floating business or some other form of commercial or public vessel, the boat will be examined to either the 2017 Hire Boat Requirements or 2002 BSS Standards as stipulated by the navigation authority registering your boat.
Further BSS information about the use of LPG on boats
The Safe Use of LPG - pdf leaflet

.
Fire Safety on Boats - pdf leaflet

Carbon Monoxide Safety - CO web page

Portable gas appliances - fire safety page

Refilling gas cylinders - BSS Briefing